As we face the challenge and uncertainty of a world in chaos, the Spring Equinox approaches. Day and Night grow more balanced with each passing day, and our thoughts turn to Spring cleaning, St. Patrick's Day, the Ides of March, and Ostara.

Whatever these days bring to mind, we're here to share it with you. And we're making it easier, with $5 for the first five minutes on both March 14 and 15. So drop by HoodooPsychics.com and make a call today.

Many blessings,

Deacon Millett

Angela Horner: Daily, 2PM-5PM EST
Deacon Millett: Wednesday, 1PM-3PM EST
Evan Lionhart: Sunday, 4PM-7PM EST
Lady Muse: Daily, Noon-Midnight EST
Madame Nadia: Sunday, Noon-2PM EST
Miss Elvyra: Thursday 1PM - 2PM EST
Papa Newt: Weekdays, 6AM-8AM EST
Sister Girl: Weekdays, 2PM-10PM EST
Sister Jacqueline: Wednesday, 5PM-10 PM EST
Miss Elvyra On Wiccan Spells And Lore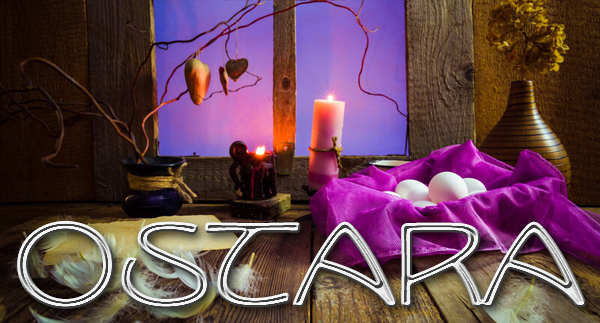 Cute little bunny delivering decorated eggs
Little ones looking for hidden treasure, sweet treats
Easter has been redesigned for the innocent

Ostara, Easter, Spring Equinox, the point of equal light and dark, a balance bringing us from one season to another. This holiday's ancient roots go back to the Earth mother goddess, who is known by many names in many cultures. This time, marked by ritual and celebration, signals the last of Winter giving way to Spring.

The egg is a symbol of biological life, the time of conception, as well as Cosmic life. The yellow yolk symbolises the solar masculine energy; the white of the egg is for the lunar feminine energy. The shell is the container for the emerging life.

The bunny (rabbit, hare) is sacred to the Goddess, associated with the Moon in both eastern and western cultures.

The actual cleansing, physically and spiritually, of one's house, work, and altars is appropriate, but this is also a time when spells for personal growth, money, reconciliation, renewal, and cleansing are well-suited:
An egg on a string hung in the window is good for psychic protection of the household. This may have been the origin of the silvered "witch ball."

Bury eggs in the foundation and walls of a building to prevent psychic attack.

A good way to work with renewal is to collect wood and make wands. If you are more adventuresome, collect enough wood and twigs to make a broom.
---
Hoodoo Psychic Miss Elvyra works in the lady-hearted tradition and is a favorite reader. She is the cohost of The Witch, The Priestess, and The Cauldron podcast.
Traditional Magic With Sister Jacqueline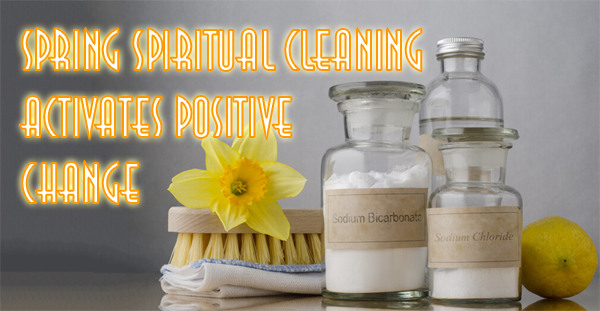 Spring is almost here and you can see it everywhere! The daffodils are starting to break through the cold, tamped ground, the light lingers as we travel home from work, and the birds have started returning and singing in the morning. Spring brings in new opportunities and renews and refreshes set commitments. Now is the time to start cleaning and spiritually cleansing your home to welcome in new opportunities and blessings with the Season.

Here are some of the areas you should concentrate on for a spiritually spic-n-span clean:

OUTDOOR AREAS: Cardboard boxes that held items shipped to the home should be torn down and recycled to be used again. Sweep old leaves and debris off your porch and steps. Trim out dead branches from your planter boxes and ceramic urns in front of the house. Sweep down cobwebs in the upper corners of your porch or walkway. On a good day, rake up small branches and any leftover leaves from Winter's storms. Get some Holy Water from your local Catholic church and add a pinch of Kosher Salt and a splash of Florida Water. Flick over the swept area with the fingertips of your dominant hand and bless the area to keep negativity away.

CLOSETS: It's time to start considering changing out your heavy clothes for lighter-weight ones. Look over all clothes before packing away for next year. Donate any ill-fitting or gently worn clothing to the shelters or thrift store. Clean all winter boots and store in boxes or bags and placed in back of closet. Smudge with a sage wand or bundle and place a square of camphor or a moth ball to keep the negativity away.

GENERAL AREAS: Old magazines, newspapers and brochures should be tossed. Sort through mail and eliminate any unwanted sale papers and offers in envelopes. Take throws and pillows off sofas and give them a good wash with your favorite laundry soap, adding 1/2 cup clear ammonia to the wash water. Clean window and window sills. Move furniture and vacuum up those "dust bunnies." Change out your vacuum cleaner bag. Sprinkle baking soda or table salt lightly over your carpets and wait a bit, then vacuum. Salt is a natural for absorbing unfavorable energy, and
ammonia and epsom salts
are the dynamic duo of negative cleansing.

KITCHEN: Organize under your sink and toss out any old household cleaners. Recycle any grocery bags and organize your other ones, too. Look through the Tupperware and Rubbermaid containers and match them up, tossing anything that does not have a lid. Store away any Christmas plates, cups, or servicewear until next year. Organize your pots and pans area. Go through your pantry and toss/donate any food items you are no longer interested in consuming. Combine your half-used bottles of spices and half-opened boxes of teas sections of your cabinets. Using traditional hoodoo cleaners such as Chinese Wash that is "fixed" to clean out negativity and usher in Good Luck can be used here and throughout the house. You can find Chinese Wash in many spiritual candle shops and botanicas.

BATHROOM: Combine your various conditioners and shampoos and use them up before buying any more. Organize under your bathroom cabinet and medicine chest. Check dates on cough syrups and pills for health so you do not take outdated medicines. Toss anything that is outdated. Keeping a box of Epsom Salts under the bathroom cabinet for your own personal spiritual baths makes it easy to reach for when you encounter negative situations or need to remove any "funk" you've been in.

BEDROOMS: Deep clean and move furniture to capture those "dust bunnies," and look for stray socks and other things under the bed. Take heavy blankets to the wash to clean and add the clear ammonia again to wash water. Change the sheets and wash the pillows or take them to the bulk dry cleaner for same day service. Clean out closet, donate clothes if needed. Organize your bookshelf and dresser tops. Clean windows and window sills. Sprinkle salt on the floors and sweep from the back to the front of the room. Place a square of camphor in each corner of the room to keep the room spiritually 'clean.'

Dissolve a cup of Epsom Salts in a basin of water, adding a capful of ammonia. Wipe down everything possible with this solution. Take a white tea light candle in a fire-safe container, and add three drops of Banishing Oil or White Sage Essential Oil to the top of the tealight. Set in the center of each room (or as close to center as possible). Light the candle and Pray the 23rd Psalm ("The Lord is My Shepherd"). Smudge with a sage bundle, making sure you move through the room and get the smoke into all four corners of the room -- and in the closet, too. After the candle finishes, take a small amount of Florida Water in a small dish and, dipping the fingertips of your dominant hand, flick Florida Water over the entire house, making sure to protect any antiques or treasured objects. Consider buying some fresh white flowers (carnations or roses are fine) and keeping one or two in a slender vase in each room, as white flowers are said to absorb negativity. Other beliefs say to place salt in the corners of all rooms and a lighted candle with a square of camphor in the center, to "seal" the room and retain it as "spiritually clean."

Once a deep clean like this happens, keep the positive vibes up by doing this same ritual once a month, so that your home will be organized and spiritually cleansed for new changes and blessings to come your way.
---
Prognosticator, proprietor, author, and educator, Rev. Sister Jacqueline (ex.9999) is one of the many talented readers at Hoodoo Psychics. She is on the line to take calls each Wednesday from 5pm to 10 pm Eastern and most Saturday and Sundays.



Lady Muse On Manifesting Good Luck



MARCH MONEY MAGNET!



March can be thought of as the Month of Great Possibilities. The Green Good Luck Month. The Month of the Lucky 4 Leaf Clover and the Trinity Shamrock. Well let's use this wonderful energy to Manifest our desires!

Always start your rituals with a good old-ashioned Cleansing/Uncrossing Bath, and clean your work area to get rid of any hindering energies. You can purchase a custom Cleansing-Uncrossing Bath from your favorite Metaphysical Boutique or Botanica. Or you can use what you have in your own pantry, such as lemon for your cutting agent, basil, cinnamon, and salt. Hyssop also works wonders and should be a keeper in every pantry. Mix your ingredients together and simmer in water to make a tea for your bath and to clean your ritual space. Add 9 drops of waning moon rain water into your tea while simmering on the stove. After your cleaning and your bath you should be Powered Up to MANIFEST!





You will need:
(3) Shamrocks
(1 ) 4 Leaf Clover
Cascarilla (White Eggshell Powder) Mixed with Lodestone Sand
(3) Green Tealights
(1) Green Figural Candle (inscribed with your name and date of birth)
Honey
Money drawing Mix (Cinnamon powder, Blue Flag Root powder, Sassafras powder, Alkanet Root powder, Lodestone sand)
Mix a pinch of Lodestone sand into your Cascarilla (white eggshell powder) and draw a Triangle Sigil on your work surface. Place a green tealight on top of a Shamrock on each tip of your triangle sigil. Mix your Money drawing mix and dress your tealights with a pinch of the mix. Taste the honey then rub honey on your figural candle from bottom to top. Roll your figural candle in the money drawing mix. Place it in the middle of the Triangle on top of the Four Leaf Clover. Light your candles and repeat the following prayer 5 times:

The LORD is my Shepherd and I SHALL NOT Want
I am a Money Magnet and Money Loves Me
The LORD is my Shepherd and I SHALL NOT Want
When I Call Money, Money Comes Quickly
The LORD is my Shepherd and I SHALL NOT Want
Money Come to Me NOW! with no negative repercussions.

I like to do this work on a Sunday during the hour of the Sun. Now stay positive and prepare to receive your Manifestations! Enjoy!
---
Hoodoo Psychic Lady Muse ministers to the masses, helping them break free from the bondage of oppressive situations and uplifting their Spirit. Give her a call at hoodoopsychics.com.