We are at one midpoint of the year, as dark and light meet halfway. From here, our nights in the northern hemisphere will only get longer. Thanks to Miss Elvyra and Lady Muse for helping us welcome the season.

The Grief Deck Kickstarter we shared last month has been fully funded. Sadly useful as we pass another pandemic milestone, with 200,000 dead in the U.S. alone.

October skies will be busier than ever, and Sister Jacqueline is here to help us plan ahead.

Which brings us to our 13th Annual Hoodoo Heritage Festival, October 16-18, beginning with a New Moon in Libra! Three days, fifteen classes, and HALF PRICE Hoodoo Psychics readings available for ticket holders.



I hope we'll see you there.

Many blessings,

Deacon Millett
Seasonal Magic With Miss Elvyra

Apple cider warmed and spiced, gathering together to share in the final harvest of the year before winter. These are moments that represent the fall equinox, a moment of equal light/day and dark/night. Nature begins to rest and darkness sets in as night grows longer.

This is the second harvest after Lammas (or Lughnasadh), the gathering of apples for cider and grapes for wine, gourds, squash, corn, and seeds for the spring. The central theme of this time is the sharing of the bounty of the harvest. This is the pagan Thanksgiving, a time of gifts and blessings.

One of the symbols of this time is the Apple. If cut in half the seeds in the center form a pattern: a five pointed star in a circle. The apple tree is viewed as the Tree of Life. As apples fall to the ground, the descent to the Underworld begins and declining life occurs. The journey to the womb of the mother goddess takes place in preparation for a rebirth, when apples blossom once more at the spring equinox.

A time of introspection begins: what to harvest on social and emotional levels, and what to let go. This is also a time to recharge magical energies and draw new currents of elemental powers to work with in your life.
Magical Workings
Prosperity (water)
Take the root of yellow dock dried and ground to powder, steep in boiling water and drain. Take the tea and anoint doors of home and work areas to bring good luck and good fortune.
Protection (air)
Use ground and powdered Angelica root as incense to ward off evil and protect your home, workplace, and other areas.
Self-confidence (fire)
Burn a 4-in yellow or gold candle, anointed with Master oil and rolled in crushed master root powder. (A white candle may also be used)
Harmony and balance (earth)
Acquire a hematite stone or a piece of jewelry with hematite in it. Anoint it with blessing oil, blow upon it, sprinkle water on it, and place in a bowl of salt for a few hours. Carry upon your person.

These four workings can be done separately or you can create a fall altar with a russet or orange cloth. Arrange the yellow dock tea, powdered angelic root incense, candle, and amulet in the four quarters of air, fire, water, and earth, with gourds, corn, apples, and grapes in the center.

Light the sense and the candle and speak your gratitude for the gathered harvest of gifts and teachings acquired during the year. Sit in quiet and send your gratitude out while reflecting on your personal harvest.
---

Lady Muse's Fall Preservation Oil
As we come to the end of Summer and enter the beginning of Fall, we are reaping what we have sown. During this time of harvest, we are preparing the store house with our bounty to last throughout the winter. With that in mind, it is a good time to do a special ritual to preserve what we have in the store house. The holidays can put a strain on finances, relationships, and other endeavors. So, we want to be sure that we do not run short. Also, we want to continue to thrive during this time.

I would like to gift you with my quick and cute recipe for Lady Muse's Fall Preservation Oil. You can simply put it on a tealight on a Sunday and pray, or you can use it with an elaborate ritual of your choice.

This is portioned out to fill 8 oz. bottles. If you have a different size bottle, you can adjust accordingly.

Items Needed:
1/2 Teaspoon Sassafras Leaf
1/2 Teaspoon Life Everlasting
4 pieces of Star Anise
1/2 Teaspoon Rue
2 pinches of Salt
8 oz of Almond oil (for base)
8 drops of Peach essential oil

Instructions:
During a waxing moon on a Sunday, mix your herbal ingredients together in a bowl with 2 pinches of Salt and pray the following to infuse them with your intent:

Father/Mother Creator of all,
I ask that you awaken the spirt of the herbs
Infuse them together with the power to preserve.
I command the herbs to awaken for this task
God I thank You

Transfer the infused ingredients into your 8 oz bottle. Fill the bottle three quarters full of Almond Oil. Put 8 drops of Peach Essential oil into your bottle. Now you can add a bit more of the Almond Oil to fill up the rest of the bottle. Cap off your bottle and shake to mix the herbs and the oil. Place the oil on the window sill for three nights to infuse under the moonlight. After the third night, the Fall Preservation oil is ready to use. Enjoy and Stay Blessed!
---
Hoodoo Psychic

Lady Muse

ministers to the masses, helping them break free from the bondage of oppressive situations and uplifting their Spirit. She will be doing personal readings at the

VIRTUAL Hoodoo Heritage Festival

next month.
Sister Jacqueline And Our Busy Celestial Skies

What Has Two Full Moons,
A New Moon, And Mercury Retrograde?
Surprise, It's October 2020!
The October sky starts with a Full Moon on October 1st, in the astrological sign of Aries the Ram at 5:05 pm Eastern time. This is the Full Harvest Moon, a term given to this time by the Native Americans. The season is calling for all grain crops to be harvested as the first frost is coming quickly and preparations for Winter are in full swing. This is a time that you should be having the technician come over to check your heating system, cleaning out gutters of leaves, raking those same leaves in compost piles, and readying the coats, jackets, and boots to make sure they are in good repair and clean. Time to get out the slow cookers for hearty soups and chili, and to change out the sheer summer curtains for heavier drapes to stop the winter chill from coming though the glass.

The night comes earlier and the dawn rises later and we have to set our internal clocks for the time change as well. Sipping cleansing teas as a detox before fall is advised in order to ritually say goodbye to a confusing three quarters of 2020 and await a brighter future with the coming new year.
The last and final Mercury Retrograde of 2020 occurs on the evening of October 13 at 9:05 pm Eastern time. Mercury will be stationing in the astrological sign of Scorpio the Scorpion.

The nature of Scorpio is intuitively waiting for the right time to strike. They have patience beyond others when it comes to getting their 'victim' in revenge, or when calculating their next
conquest. Scorpios never "show their cards" and are considered the astrological representation of transformative destruction. Like the mystical Phoenix, they die to live again, reborn.

Mercury Retrograde in Scorpio will cause a topsy-turvy world for three weeks, as we struggle to keep our "eyes on the goal" vs slowing down and paying attention to detail. This might cause us to jump to conclusions a little too quickly, perhaps delivering a nasty sting before all the facts are revealed.

Breathing and pausing to fully understand the information delivered is strongly urged. Scorpios may feel particularly agitated and inpatient, but if we all tune into the energy of this time, we can recalibrate how we react to social and personal triggers that may spark reactionary movements.

When Mercury impacts this sign, it can cause more than your usual technological and data problems, along with privacy and password issues.

Mercury goes direct again on November 3, 2020, just one day after Election Day.
The New Moon occurs on October 16 at 3:32 pm Eastern time in the astrological sign of Libra the Scales. The call for fair and balanced harmony is more urgent than ever and even though issues need clarity, the urge to placate and "play nice" is strongly felt in order to not disturb the peace. Sharing the good and the bad is the lesson to be learned. Self expression is welcomed and you can be who you want to be despite the urge to make everybody happy, which you know, cannot possibly happen.
The Second Full Moon occurs on October 31 and is called the Hunter's Moon, as this is the time that Native Americans hunted for meat to cure and store for the long winter months. This Moon enters the astrological sign of Taurus, the Bull, at 9:49 am Eastern time. This Moon is especially rare as it is a "Blue Moon" — yes the same "Blue Moon" that was a 1961 hit for the Marcels. Blue Moons are a second Full Moon within a calendar month and can only occur in the months that have 31 days: January, March, May, July, August, October, and December.

Half Price Readings at Hoodoo Heritage Festival!
One of the many benefits of this year's online

Hoodoo Heritage Festival

, October 16-18, is the array of wonderful Hoodoo Psychics who will be doing 20 minute private Zoom readings for just $40 -- half the normal cost of a Hoodoo Psychics call!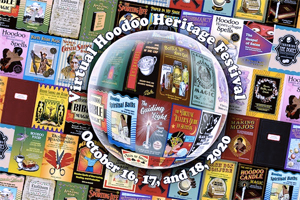 Who is reading at the festival? Great question! How about Angela Marie Horner, ConjureMan, Elle Duvall, Evan Lionhart, Mama E, Mama Vergi, Miss cat yronwode, Miss Elvyra, Miss Athena, Miss Michaele, Lady Muse, Rev. Sister Jacqueline, and Susan Barnes?

Tickets for the 3-day event are just $300

.

Angela Horner: Daily, 2PM-5PM EDT
Evan Lionhart: Thursday & Sunday, 2PM-5PM EDT
Lady Muse: Daily, Noon-Midnight EDT
Madame Nadia: Sunday, Noon-2PM EDT
Miss Cat: Saturday, 4PM-8PM EDT
Miss Elvyra: Thursday 1PM - 2PM EDT
Papa Newt: Weekdays, 6AM-8AM EDT
Sister Girl: Weekdays, 2PM-10PM EDT
Sister Jacqueline: Wednesday, 5PM-10 PM EDT