As we reach the midpoint (November 7) between the Fall Equinox and the Winter Solstice, we come to a cluster of holidays (in the northern hemisphere) which symbolize the final fruits of the harvest and our reverence for ancestors who have passed.

With the days growing rapidly shorter and leaves beginning to fall, it's so easy to feel the gossamer veil between worlds as it thins. Cards, palms, and tea leaves seem louder somehow, desperate to share their secrets.

So embrace a ghost, bewitch a love, befriend a monster. And feel free to call and tell us about it.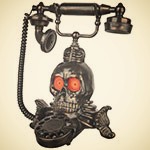 Many blessings,

Deacon Millett
Miss Elvyra on Samhain and Pagan Tradition
Bonfires, Guising, Mumming,
Feasting & Divination
Bats, cats, owls...
Ghost, ghouls, the Grim Reaper...
Witches on broomsticks, boiling, bubbling cauldrons, and bonfires...
These are some of the modern-day associations with Halloween, October 31st. There is a far older association with this time known as Samhain or "Summer's End," marking the end of the harvest, the time to thin herds of cattle, preparation for the colder weather of winter to come.

The Pagan tradition of this fire festival has recorded roots from the 10th Century in Ireland, though it goes even farther back in the Gaelic and Celtic Isles and Europe. There are similar festivals throughout the world with other cultures and traditions celebrating this time of year as well.

Samhain is the spiritual New Year's Eve. This is a time when the veil is the thinnest between the Otherworld and the physical world, making it easier for the dead and supernatural beings to enter and commune with us. This was a time of bonfires, guising, mumming, feasting, and divination. A time of setting up ancestor altars and remembering our recent dead, our beloved dead, our long dead, and setting a place at the table for them with food and drink and the telling of ancestral stories.

With the spread of Christianity, this festival morphed into All Saints' Day, November 1st, and All Souls' Day, November 2nd (see below).

Halloween comes from All Hallow's Eve, October 31st. Halloween and Samhain are different in focus and practice. Halloween is a secular folk holiday very similar to Thanksgiving and celebrated by people playing in the realm of fantasy and make believe.

From Shakespeare's "Bubble, bubble, toil, and trouble" to popular songs "I've Put A Spell On You" and Michael Jackson's iconic "Thriller," we love all things mysterious and spooky — especially at this time of year.

Merry meet, merry part, and merry meet again. Blessed Be.

Hoodoo Psychic Miss Elvyra is the cohost of The Witch, The Priestess, and The Cauldron.

Listen to the Samhain episode

to learn more.
Hoodoo How-To with Dr. Edward T

Halloween is undoubtedly the most magical time of the year in many people's minds, but do you know what special, seasonal spells are traditionally cast?
For Protection

Fierce-faced lanterns carved out of pumpkins — and, in colder climates where pumpkins are rare, turnips — are apotropaic charms intended to ward off evil spirits and protect travellers and households from harm. Make a Jack O'Lantern to keep the ghosties and ghoulies at bay. It is said that when you see the flame flicker and dance, a spirit is near...

For Prosperity

Take 3 fresh pumpkin seeds, sprinkle cinnamon and nutmeg on them, and let it dry. Put the dry seeds in your wallet. This will increase your prosperity and protect you from financial loss.

For Love

To draw a lover to you, make a petition paper with your target's name on it in Dove's blood ink. Place honey, 3 rose petals, 3 cinnamon sticks, ginger, and vanilla in a clean carved out pumpkin. Bake the pumpkin in your oven until it is soft. This will soften your lover's heart. Bury the pumpkin in your yard to draw them home to you. (Don't have a yard? Use a very small pumpkin and bury it in a potted plant outside.)

Enjoy this season and may all things pumpkin bring you love, prosperity, protection, and healing energies.

Dr. Edward T is a new addition to Hoodoo Psychics. Read more about him here.
Souls and Saints Mark Christian
Days of the Dead

In Christianity, All Saints' Day (also called All Hallows' Day, Hallowmas, and the Solemnity of All Saints) honors saints and martyrs, both known and unknown, with special church services, prayers for the heavenly dead, and visits to cemeteries. Originally celebrated at the end of Lent, in the the eighth century Pope Gregory III moved All Saints' Day to November 1st, perhaps to coincide with pagan celebrations occurring at the same time.

The following day, November 2nd, is dedicated as All Souls' Day, to commemorate souls in Purgatory, including unbaptized babies and "the Faithful Departed," those who have been baptized but have died before making their confession. Black and purple are the liturgical colors of this day and deceased relatives are typically remembered and their graves visited. It is believed that, through prayer, the slightly less saintly among our loved one may be prepared for Heaven.
Soul Cakes, rounded scone-like biscuits prepared with sugar, nutmeg, ginger, cinnamon and allspice, have fallen from favor — but in the eighth century they were given to beggars in exchange for prayers for the dead, one soul per cake. That's some serious trick-or-treating!

The modern Dias de los Muertos (Day of the Dead) is a combination of All Saints' and All Souls' Days celebrated on November 1st and 2nd in Mexico, Latin America, and U.S. Latino communities. A distinctly Aztec spirit remains in the holiday, dating back at least 3000 years. Los angelitos, the spirits of children, come out at midnight on the 31st. Adult souls take their place from noon November 1 until the following day.

Along with All Hallow's Eve — Hallowe'en — these three days comprise the "Days of the Dead," a triduum of feasts also called Allhallowtide. A Triduum is a religious observance lasting three days, such as the Paschal Triduum, which lasts from Good Friday through Easter Sunday in Spring.
Deacon Millett With Treats For The Dead
Sugar and Spice and Everything Nice
Many traditional favorites are served for Dias de los Muertos, both for the living and the dead. Ancestral meals in cemeteries and on altars are commonplace. Unrefined pure cane sugar, molded in the form of cones, is known as Piloncillo -- and features prominently. Seek it out, don't substitute!
Calabaza en tacha, a popular and traditional dish for Día de los Muertos, is made using pumpkin in the
U.S.
In a large heavy pot, bring 2 small piloncillo cones (hard brown sugar, about 16 ounces), 1 sliced orange, 4 cinnamon sticks, two star anise, and 4 cups water to a boil.

Add the flesh of one 4-5 pound pumpkin cut in 3" sections. Cover and simmer 20-30 minutes until tender.

Remove pumpkin to a tray and continue to reduce the syrup. When thickened, strain

out oranges and spices, then return pumpkin pieces to the pot.

Serve in a bowl of warm milk or with a drizzle of syrup.

Atole, a breakast porridge of masa harina (corn flour), dates back to the Aztecs.
In a large heavy pot, bring 3 cups water, 1 small piloncillo cone (hard brown sugar, 8 ounces), beans from 1 vanilla pod, and 4 cinnamon sticks to a boil.

In a medium bowl, whisk together 3/4 cup masa harina (not cornmeal), several pinches of salt, and 3 cups milk until completely smooth.

Pour into pot with sugar mixture and bring to a boil; reduce heat and stir occasionally until mixture is smooth and thick.

Remove spices to serve. Add extra milk for a thinner, more drinkable treat.

Calaveras, Mexican sugar skulls, are more fun to make than to eat.
Mix 4 cups sugar and 6 teaspoons meringue powder. Add water by the teaspoon and mix until it feels like wet beach sand.

Tightly pack the mixture into front and back skull molds, flip out onto a flat surface, and let dry overnight.

Cement the fronts and backs together with royal icing. Decorate!


Lady Muse: Daily Noon EDT/9AM PDT

Dr. Bob Crowley: Weekdays 1PM EDT/10AM PDT

Co. Meadows: Weekdays 9AM EDT/6AM PDT

Rev. Jon St. Germain: Tuesdays 11AM EDT/8AM PDT

Papa Gee: Tuesdays 4PM EDT/1PM PDT

Mama E: Wednesdays 1PM EDT/10AM PDT

Rev. Sister Jacqueline: Wednesdays 6AM EDT/3AM PDT and 3PM EDT/Noon PDT

Sister Jean: Thursdays 1PM EDT/10AM PDT

Miss Elvyra: Saturdays 12PM EDT/9AM PDT

Sister Girl: Saturdays 7PM EDT/4PM PDT

Deacon Millett: Saturdays 8PM EDT/5PM PDT