Welcome back to another edition of Hoodoo News -- and thanks for letting us into your inbox!

The summer sun in Australia is doing its damnedest, bringing the hottest January ever recorded down there. Meanwhile, in the northern hemisphere, the gulf stream has shifted the polar vortex to the midwestern U.S., and a vicious cold snap was the result.

Our callers seem similarly vexed, with strange life shifts and feelings that something just ain't right. As always, our Hoodoo Psychics are here if you need to check out your future -- or even find a spell to make that future more to your liking.

Make gentleness and generosity your aim, and a new season will be upon us before you know it.


Many blessings,

Deacon Millett
Lunar New Year Begins With A Bang
Welcoming the Year of the Pig


The Pig is the twelfth of the 12-year cycle of animals which appear in the Chinese zodiac, related to the Chinese calendar. Although the Pig is not thought of as a smart animal in China, with a reputation for loving to sleep and eat and play in the mud, in the west, we know the Pig to be highly intelligent.

The Chinese interpretation is perpetuated by a myth in which the Jade Emperor invites all the animals to a party and the Pig arrives last, forever relegating it to 12th place in the zodiac.

Just as the Buddha is often depicted as heavy set, indicating his acceptance of everything, the Pig's wide face and big ears connote good fortune. Their winning personalities indicate an easy way forward in life.

In the 60 year cycle of the 12 astrological signs, 2019 is the Year of the Earth Pig. In completing this cycle, 2019 is seen as especially beneficial to those born in previous Years of the Pig, including 1935, 1947, 1971, 1983, 1995 and 2007. The most recent Year of the Earth Pig was 1959. Those born under the sign of the Pig are thought to be most compatible with protective Tigers (1926, 1938, 1950, 1962, 1974, 1986, 1998, 2010, etc.) *Note that the Lunar Calendar has the Year of the Pig beginning on February 5th.

Happy New Year, wonderful piggies!
Conjure in the Kitchen with Sister Jacqueline
February...the month of Love, Love, wild and wonderful Love! The month of February holds the feast day of the Patron Saint of Love, Valentine, but also is a very early precursor to Spring. The Sun seems to shine a wee bit more than the previous few months and we can see some very early flowering bulbs such as hyacinth, tulips, paperwhite narcissus and even a few early daffodils peeking through the snow and dirt.

February is a perfect time to consider Love Magic since committed couples have entertained throughout the Holidays, and buckled down to finances and early tax preparation in January. Single individuals have created New Year's resolutions to focus on becoming one with another, and the onset of Spring (and awakened hormones) is spurring you to create the right Love Magic fragrance to seduce and attract that perfect mate.

The addition of certain herbs, roots, and spices to fragranced oils is a time honored tradition in Hoodoo and Conjure. Wise practitioners know the certain magical and physical properties of their botanicals, and add them to oil to create recipes for any desired effect. Here are some common kitchen products that you can add to any fragrance oil to boost their love drawing power!

Almond Oil: A specialty oil that is found in high-end gourmet shops, it can also be purchased in many health foods markets. Almond oil is light and a good base for creating love fragrances. Many cooks use almond essence as a substitute for cherry flavoring in baking.

Rose Flowe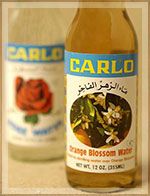 r Water and Orange Blossom Water: Both good bases for the creation of lighter fragrance cologn
es; just add herbs and spices for alluring scents to attract love. You can find both these food grade water
s at specialty food stores in large Asian and Middle Eastern communities or online.
Cinnamon: Cinnamon, a very common spice and a powerhouse of attraction, is a warm spice, meaning that it contains "hot" components to its structure. Cinnamon creates a fuzzy, cuddly feeling when the scent hits the nose. It softly tells the world that the wearer is near and approachable, ready for that small talk that leads to much longer conversations. It allows others to "let down their guard." This is why real estate agents suggest placing a Pyrex dish of water and cinnamon powder in a low temperature oven, so that the house will be inviting to prospective buyers.

Cardamom: The favored spice of the Orient, cardamom is used in many Middle and Far Eastern dishes. The exotic scent of ground cardamom alerts others that you are worthy of desire and filled with lust. It tantalizes and intrigues others to come closer and find out who IS this exotic individual.

Ginger: Once a connection has been made, Ginger, either in root chips or powdered form, is the next step in creating fragrances to attract love. Ginger is spicy and "hot," and in Hoodoo is used to "heat things up." Its sharper aroma perks up the nose, sending an "I'm here and ready for you" message to the prospective paramour.

Catnip: While you cannot find this in your ordinary grocery store, it is available in bulk form in certain natural foods stores and also at the pet store. Catnip is intoxicating and has the drawing power that makes you enticing and as charming as a gentle kitten in one's hands.

Red Clover: You may find this in the natural foods section in the form of tea, or again at the natural foods store in bulk. Red Clover is traditionally used as a magical herb for earth-shattering intimate moments between you and your loved one.

Rosemary: Traditionally an herb that empowers women, Rosemary is also used to attract faithfulness and aids and assists in a long term relationship or matrimony. It creates the power of satiety, so that your lover does not need to go searching anywhere else for love.

These are just a few of the botanicals that have been used to attract love and available through many fine hoodoo practitioners. When used wisely in combination, these botanicals aid and assist in drawing someone closer to you for a love connection.
---
Sister Jacqueline, author, educator, proprietor and prognosticator, is one of the many talented readers on Hoodoo Psychics. For further questions on the magical uses of love herbs, visit her biography page on Hoodoo Psychics.
Hoodoo Heritage Festival, Forestville, CA
Saturday May 11 - Sunday May 12, 2019


EARLY-BIRD SPECIAL!
Until March 21st: $140 per day / $260 per weekend
CLICK HERE TO REGISTER!
Tickets are on sale for the 2019 AISC Hoodoo Heritage Festival -- the last one that Miss Cat will be hosting (but probably not the last one ever!). Join Hoodoo Psychics Jon Saint Germain, Mama E, Catherine Yronwode, Miss Elvyra, Elle Duvall, Sister Jean, Robin York, Papa Newt, Jeremy Weiss, Angela Marie Horner, Valentina Burton, Papa Gee, Lady Muse, and Deacon Millett for classes, hands-on workshops, personal readings, and panel discussions in African-American folk magic, rootwork, and hoodoo.
Hoodoo How-To with Madame Nadia
8 Rules for Setting Lights on Container Spells
I am often asked by clients about the "rules" for burning candles on sweetener jars and magical containers. Here's a list of pointers I've compiled over the years for my clients:

(1) Traditionally, when working on benefic spells, we burn candles on top of jars on Mondays (a day associated with the Moon), Wednesdays (Mercury's day), and Fridays (a day dedicated to Venus, the Goddess of romance and riches).

However, if your work is of a malefic nature, you might consider Tuesdays (a day dedicated to working with Mars, the God of war), and Saturdays (Saturn's domain).

(2) If your situation is critical, or you need fast results, consider burning candles on top of your jar daily. You could also set a candle and burn it in increments. For instance, a red "7 knob candle" is a classic example of a light that is burned for 7 days — one knob per day.

Or work a figural candle -- like a male, or a penis candle -- and divide it with pins into 7 sections (by using 6 pins), letting each section burn until the pin falls off. Traditionally, we pay attention to whether the pins fall out, or stay stuck to the wax. If the pin remains stuck, it's a sign of setbacks and obstacles to your work.

(3) Sprinkling Ginger and/or Cinnamon over your lights will help with "heating up" the situation, expediting your magic as well.

(4) Another way to quicken results is setting tea lights in a square formation around the jar. For a love or success container spell, you might want to set 4 red or white tea lights, with a red taper or gold taper on top of your jar — depending on the purpose of the spell, of course.

(5) It is also a good practice to decide on a specific time when you'll be lighting your candles, and stay consistent about it.

(6) Some folks like to burn candles guided by the direction of the hands of a clock. For works made to draw and increase, you'll want both hands to be moving up. If your intention is to remove or reverse, then both hands of the clock should be moving downward.

(7) If your aim is influencing a stubborn or unwilling target -- for example if you're working on a reconciliation spell and you'd like your lover to contact you -- it is often helpful to work by night, when the individual is asleep. Then you can "talk to them" as you light your candle, commanding to call you, for instance.

(8) Finally, it's important that you light the candle and let it burn without checking on it every few minutes. That way you'll show the Universe you have faith in its ways, and this will also prevent you from becoming obsessive about your work and losing control.
If you follow these simple rules, your work will be more effective and professional.
---
Madame Nadia's Lenormand and Tarot card readings are a favorite on Hoodoo Psychics.