Not following us on Facebook? You are missing out!

Each Monday, we've been giving away one free reading to a lucky commenter! Don't forget to drop by for your chance to win each week. It's also a great way to see who's on the line, since many Hoodoo Psychics post when they begin taking calls.

In this issue, we've got a lot to celebrate, including:

• Virtual MLK Day: Music, History, Art, Oratory From The Reginald F. Lewis Museum
• Office Hours For Your Favorite Hoodoo Psychics
• Skywatching With Sister Jacqueline: Surprise! Four Mercury Retrogrades In 2022!
• No More Interruptions: Speak With Your Trusted Advisor For As Long As You Like
• Holidays Around The World With Deacon Millett: Year Of The Tiger 2022

If you're a student or graduate of Catherine Yronwode's Hoodoo Rootwork Correspondence Course, we've got some great thoughts on how to start working as a reader and rootworker. Don't miss out on this great opportunity!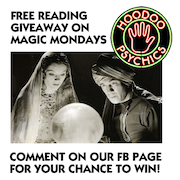 Please stay safe and healthy out there. We're just a phone call away.


Many blessings,

Deacon Millett

Celebrate virtually this year with the Lewis Museum as part of your day of reflection. Streaming programming includes:

• A conversation with Civil Rights historian Taylor Branch with Dr. Izetta Autumn Mobley, Director of Interpretations, Collections and Education
• An MLK Children's Theater Read Aloud with oratory speeches and sing along with the CFA Repertory Theatre Company
• A viewing of the annual HS Juried Art Show Changemakers along with spoken word raps by Dewmore Baltimore poets
• A musical homage to the movement performed by jazz saxophonist Benny Russell, trumpeter Brandon Woody, pianist Justin Taylor, drummer Jay Moody and bass player Blake Meister.

Angela Horner: Mon, Wed, Fri, Sun, 3PM-6PM EDT
Dr. Jeremy Weiss: Mon-Fri, 2PM-7PM EDT
Elle Duval: Wednesday, 11AM-2PM EDT
Evan Lionhart: Thurs & Fri, 12PM-4PM EDT
Heidi Hilton: Tues and Thurs from 6PM-9PM EDT
Lady Muse: Daily, Noon-Midnight EDT
Madame Nadia: Sunday, Noon-2PM EDT
Mama Vergi: Daily, 11AM-7PM EDT
Miss Cat: Fri, 6PM-10PM EDT & Sat, 4PM-10PM EDT
Miss Elvyra: Friday, 11AM-12PM EDT
Nathe: Mon-Sat, 5AM-7AM & 10AM-3PM EDT
Papa Newt: Tues-Fri, 9AM-11am EDT
Sister Jacqueline: Wednesday, 4PM-10PM EDT
Skywatching With Sister Jacqueline

As if the current situation in the World was not enough, we will be experiencing four, not the usual three, Mercury Retrogrades in 2022.

The buzz phrase "Mercury Retrograde" has been gaining in popularity in the past few years, but in reality Mercury Retrograde has been occurring since the beginning of Time. The true nature of this retrograde phenomenon started to be understood when Copernicus observed the planets revolving around the Sun. Later, the study of the sky continued with mathematician Johannes Kepler, who was assisting astronomer Tycho Brahe. Kepler published a series of laws about the planets' orbits that reveal the slight "backward" motion now commonly known as Retrograde.

During the 1980s, a revival trend in adapting older astrology brought more attention to the term Mercury Retrograde, and interest grew from then into the trendy term that is often applied to events that occur in everyday life.

Each Mercury Retrograde "sits" or "resides" in a certain astrological planetary sign, and it is believed that certain planetary aspects of that sign enhance or affect that particular Retrograde.

Here are the dates and the astrological sign of each of the 2022 Mercury Retrogrades:
1st Mercury Retrograde:
January 14th to February 3rd 2022 - Mercury in Aquarius, the Water Bearer
2nd Mercury Retrograde:
May 10th to June 2nd 2022 - Mercur
y
in Gemini, the Twins
3rd Mercury Retrograde:
September 7th to October 2nd 2022 - Mercury in Libra, the Scales
4th Mercury Retrograde:
December 29th to January 18, 2023 - Mercury in Capricorn, the Sea Goat
Knowing the astrological signs of each of the Retrograde periods will assist you in recognizing events that are materializing so that you can plan your words and strategies for success during these times.
---
Rev. Sister Jacqueline of Hoodoo Psychics (ex 9999) is one of the talented readers and a worker that sets lights and candles for your own personal situation. You may read more on what she does and contact her through her biography page.
Do you remember the good old days, when you weren't interrupted on Hoodoo Psychics every ten or 15 minutes to renew your credit card?

Yeah, the constant interruptions of late have bugged us as well! That's why we're experimenting with larger initial credit card authorizations, so that you and your Hoodoo Psychic can speak freely without being disturbed.

As always, you will only be charged for the time you are actually speaking with your advisor, but you may see a larger "pending" charge on your credit card.

Hit reply and let us know what you think!
Holidays Around The World With Deacon Millett
2022 is the Year of the Tiger, and we'll welcome it in on Tuesday, February 1st. China's Festival of Spring begins on the second new moon following the Winter Solstice, and the party can go on for two weeks!

Courage, self-confidence, and justice are all attributes of the Tiger, so try John The Conqueror, Justice, or Master Key incense for your celebrations.

Tiger years can be disruptive, so expect sudden changes. Whether you jump into a new prosperity or fail spectacularly, it will be BIG.

Celebrating a January or February birthday and want to know your sign of the Chinese zodiac? Don't let that placemat at your favorite Chinese restaurant steer you wrong!

Since China (and many other Asian nations) celebrate the Lunar New Year, you'll need a calculator (like this one) to straighten things out.
---
Hoodoo Psychic Deacon Millett is the author of Hoodoo Honey and Sugar
Spells and Hoodoo Return and Reconciliation Spells. Visit him at hoodoopsychics.com.