I have needed the color and light of Christmas this year, just to remind me what celebration is.

Death has been too present lately; distance and loneliness the price we pay for doing our part. I marvel that America ever had scrap metal drives and victory gardens, when a simple face mask is too much to ask.

As we step into next year, things are already looking brighter. And so this newsletter is full of hopeful intentions, blessings for loved ones, and healing self-care.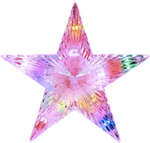 If you need spellwork advice, a peek into the future, or just a friendly ear, we're here to listen.


Many blessings,

Deacon Millett
Evan Lionhart Brings The Spirit Of Christmas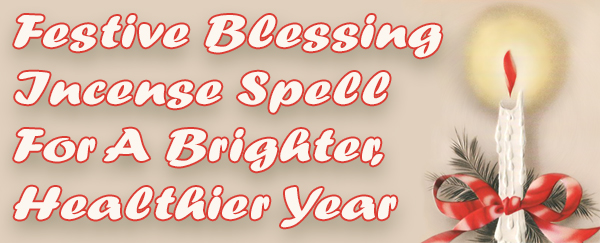 Season's greetings! As we prepare to leave 2020 behind, I thought it'd be nice to end this year with a blessing. Here's a 7-day jar spell to ensure both friends and family alike have all they need and more for the year to come. We start this spell on Christmas Eve and infuse it with prayer for seven days before sending our loved ones with wishes of peace, health, and good fortune.

You will need:
Strips or squares of paper to write on
Black or blue pen
7 white taper candles
A large, clean mason jar
Cinnamon sticks or chips
Frankincense
Basil
Myrrh
Pyrite
Pine needles (use the ones from your tree, if you have)
Life everlasting
A pack or two of Blessing incense, depending on your jar size
Blessing oil





Start this spell on Christmas eve morning, ideally before the rest of your family arises. To your clean mason jar, add the Blessing incense and a handful of dried pine needles. Recap the jar and dress a white taper candle with Blessing oil. Affix it to the top, light it, and let it burn down.


The next day add the cinnamon, praying for love and money for all those concerned. Repeat the process of capping the jar, setting a Blessing taper atop, and allowing it to burn down. Repeat this process daily for each remaining ingredient: Frankincense, Myrrh, Basil, Pyrite, and Life Everlasting. After seven days your incense will be complete.

On New Years Eve a half hour before midnight, you can begin the spell. Write out a name paper for the person you wish to bless and place it in your right hand along with some of the incense. Throw this into a firepit or fireplace, calling the name of the person you want to bless followed by an appropriate blessing ( ______, may you have good health, luck, and find successful employment this year; _____ may you find the money to purchase the car you desire). As the smoke rises, your prayers will rise to meet their spirits in the new year.

See you in 2021!
---
Let
Evan Lionhart
inspire you with a personal reading on Hoodoo Psychics! Heartfelt conjure and traditional rootwork are his specialities.
A Life Of Blessings With Rev. Sister Jacqueline

It is the end of a momentous year, with its changes and challenges, mysteries and misunderstandings. In many ways, 2020 slapped us right upside the head and told us to "act right!!!" We stripped down the streamers of fantasy of what we could want to be in order to see what we are in actuality. The ridiculousness of entertainment was numbed by reality and the reality shows reflected what we were experiencing in our own homes. We woke from a stupor like a drunk at a wedding, wondering what the hell happened and what did I miss?

Now with the end of the year upon us, the traditional challenge of "making a list and checking it twice" and conjuring up what kind of good we will be next year is in our hands. After the sobering reality of the party that never seems to end named 2020, what will we become in 2021? Here are some ideas to think about so that we are prepared for 2021 and beyond.
GET FIT NOW!

We have had many restrictions on us this past year and it is important that we establish some sort of movement program (notice I did not say exercise?) in order to strengthen our bodies. Walk, lift light weights at home, do your cardio on the stairs, squats in front of the news, etc. Any and all movement is good for your tendons, muscles, and blood flow. Lighting a white candle anointed with Health or Healing Oil and having it burn during your 'movement time' (remember it is not exercise) can assist in drawing in good things for you as you work on getting out the negative "sludge" from your pores.
EAT HEALTHY
Many learned how to cook with wonderful video streams, food service deliveries, and enhanced daily e-mails with creative ways to use what we had in the cabinet. Chick pea pasta with creamy Alfredo -- who would have known! Staying away from junk food and eating better improves your life in many ways. Have to have chocolate? Do so in moderation and make sure it is pure blocks of that dark heaven and not stuffed with other hidden calories. Got the crunching blues? Make some popcorn or buy healthy chips to crunch away that stress. Moderation is the mantra for the day. Energize spring water by placing your hands in the shape of a triangle, with the tips of your index fingers touching and the tips of your thumbs touching. Spread your fingers as wide as you can and pray or chant in your own words an affirmation that this water will cleanse you and fill you with clarity and peace.
DOWNSIZE
Now is a great time to go through your wardrobe and donate your gently used items to those less fortunate. We have helped online shopping to blow up during the last year, and we did pick up a few fabulous pieces we are going to bust out once we can party again, but until then, go through your drawers and give up items that don't fit too well. Bless someone who can use that sweater or coat! Go further to extend the blessings by anointing the label in the center back of the garment with Fast Luck or Blessings Oil, so that it will give the new owner a spiritual boost. By blessings others, you are rewarded with blessings.
GET PERSONAL ARRANGEMENTS IN ORDER
I am talking about getting your birth certificates, Social Security cards, passports, banking information, life insurance policies, final (meaning funeral) arrangements, and estates, trusts, and wills in order. Many young unsuspecting individuals passed this last year, leaving a litigious mess for family to deal with during office and departmental COVID-19 closures. Burn an anointed Clarity candle or an Ancestor devotional candle for assistance in these legal decisions, so that you will be clear of thought and guided to secure the family future for the descendants.
MAKE A DESIGNATION BOOK FOR SPECIAL GIFTS
It is not too early to create a journal that you can keep in your personal papers that assigns certain pieces of jewelry, firearms, antiques, photos, and other material items to chosen members of friends and family. Did little Kiana love your gold hoops? Put it in writing that she is to receive these upon your passing. Grandma's china? Give it to your baby sister. Dad's music library you inherited? Let your brother have it for memories. Anoint the book spine or the edges of the paper with Peace Oil so that calm emotions and sensibility rules over those who will look at this notebook when you have passed.
PROMISE YOURSELF, NOT OTHERS
For those of you who have flown on an airplane, right before takeoff, the cabin attendants demonstrate how to put on the oxygen mask. They tell you to put your mask on first, before assisting others. Why? Because if you pass out, you can't assist another. Charity begins at home and you have to come before others. Please consider being selective with who you promise your time, energy, or money to in the future. You will not ever be able to save everyone on the face of the Earth, so consider starting with yourself. Once you have all your needs fulfilled, then choose one or two persons or charities to help. There are plenty of other humans to shoulder the weight of the World. Empower yourself with a pink candle anointed with an Attraction or Self Love Oil so that you can see the benefits of taking care of yourself first, before extending service to others. This will protect you from being taken advantage of by others. You might also want to light a white candle asking blessings for any charity or individual who needs additional prayer at this time. Anoint this candle with Blessing or Healing Oil.

The upcoming 2021 year will still host challenges that we will face as we move forward in this moment in Time where we are a part of History. None of this is a true mystery, as events have been predestined for us. Working together with the Future allows you control of your own Destiny. Consider some of the above actions to enhance your Life and Existence.



---
Author, Proprietor, and Prognosticator Rev. Sister Jacqueline can be reached through

her biography page

on Hoodoo Psychics, where you can discover more about her readings and spellwork.
Classic Conjure With Deacon Millett

We know it won't be the easiest of holidays. Covid has stretched us all thin emotionally. Some experience boredom leading to drama, others free-floating anxiety on a low burn. Too much togetherness or not enough togetherness -- love suffers either way. Insomnia and nightmares are commonplace, and being alone with heartache at this time of year has always been especially difficult.

So here's an Emergency Support Kit, with self-care and remedies to help survive until next year.
VANILLA SUGAR
For Sweetening the home, fill an airtight container with extra-fine baker's sugar, plus 2 large vanilla beans. Recite Psalms 23 over your sugar or tape it to the jar.
HEAL MY HEART TEA
Combine lemon zest, shredded ginger, hyssop flowers, lavender buds, and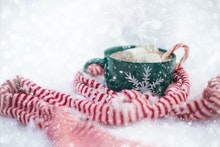 peppermint in boiling water. Recite Psalms 51 over the brew and enjoy sweetened with honey.
TO RENEW AFFECTION
Add pumpkin pie spice and ground cardamom to hot cocoa -- or just enjoy the aroma in simmering water on the stove!
SWEET DREAMS SACHET
For lucky and peaceful dreams, fill a muslin bag with lavender, calendula flowers, and hops. Read Psalms 4 before bedtime.
GUARDIAN ANGELS SPELL
Place a clean china plate atop a namepaper listing the residents of your home. Dress a blue or white cross candle with Peaceful Home Oil and place it in the center of the plate. Around it, put two protective circles of herbs: first lavender, hyssop, and mint, then rosemary, basil, and rue. Place four purple or red helper candles, dressed with Fiery Wall of Protection Oil, as guardians around the plate. Light as a centerpiece, taking care to stay safe.
May your days and nights be filled with gentleness until the new year!
---

Angela Horner: Daily, 2PM-5PM EDT
Evan Lionhart: Thursday & Sunday, 2PM-5PM EDT
Lady Muse: Daily, Noon-Midnight EDT
Madame Nadia: Sunday, Noon-2PM EDT
Mama Vergi: Daily, 10AM-11PM EDT
Miss Cat: Saturday, 4PM-9PM EDT
Miss Elvyra: Thursday 1PM - 2PM EDT
Papa Newt: Weekdays, 6AM-8AM EDT
Sister Girl: Weekdays, 2PM-10PM EDT
Sister Jacqueline: Wednesday, 5PM-10 PM EDT